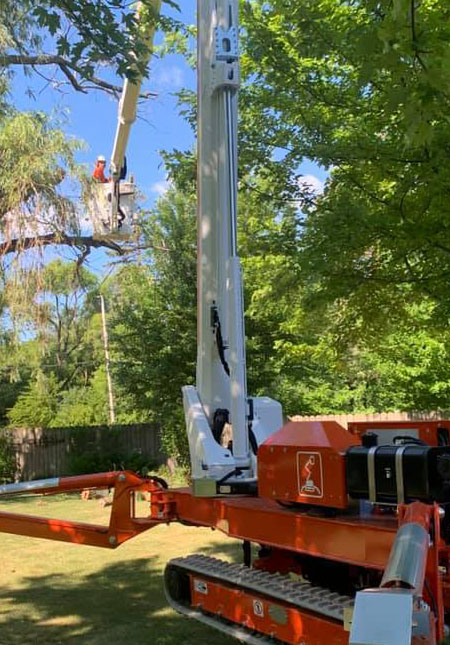 With over 25 years of experience, Cutting Edge Tree Service stands apart from other tree trimming companies in Southeastern Wisconsin. We treat every tree as if it were in our own yard, using proper tree pruning techniques and attention to detail that achieves exactly what customers need. Well-equipped and fully insured, Cutting Edge is efficient in all tree trimming situations.
Whether a tree needs thinning to become stronger and better able to withstand storms or to allow for more sunlight, Cutting Edge is more than capable. Weight reduction of a tree's limbs to minimize potential for breakage, especially over buildings or structures, is a specialty of ours. This is also important to prevent branches from scraping your roof or windows. We also offer emergency services with clean up of your property and tree pruning adjustments to help save a tree after storm damage.
Cutting Edge Tree Service - one of the top five tree trimming providers in Racine and Kenosha counties!
Spider Lift 87-48
87 ft high - 48 ft side reach spider lift
Used to access taller trees for trimming or removal
Access trees in tight area where a bucket truck cannot fit
Machine is 4 ft wide with tracks open
With tracks closed, it can fit through a 36 inch gate