We are a professional company licensed and insured with over two decades of experience in the tree service industry. Our expertise in the field will benefit you and your tree because there is no substitute for experience. We are one of the top 5 tree removal providers in the area.
---
Tree Services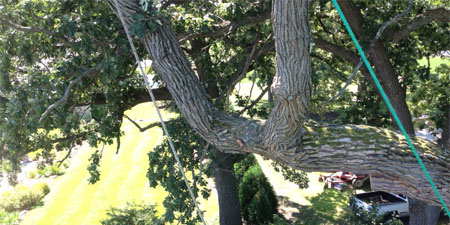 We specialize in proper pruning, large hazardous tree removal, stump grinding, lot clearing, brush chipping, new plantings, landscape and design, and lawn mowing. We also provide and deliver split seasoned firewood. In the colder months, we can handle your commercial and residential snow removal and salting.
Having beautiful, manicured trees will raise your property value. To prevent possible harm or damage to your property, it is best for large hazardous trees to be removed by a professional. We also have an arborist on staff to evaluate your tree's health. This means we can also offer solutions to tree diseases and insect control.
We are in good standing with the Better Business Bureau. Our goal is to satisfy every customer with excellent customer service, prompt free estimates, and reliable service done safely and on time.
Proudly serving the following Southeastern Wisconsin communities: Racine, Mt. Pleasant, Caledonia, Sturtevant, Union Grove, Wind Point, Franksville, Kenosha, Pleasant Prairie, Somers, Bristol, South Milwaukee, Oak Creek, and Franklin.
---
Firewood Services

Cutting Edge offers delivery of high-quality firewood sales to the Racine and Kenosha areas. Using dry, clean, and correctly-sized wood, Cutting Edge assures complete satisfaction.

Snow Removal

Cutting Edge provides professional, reliable snow plowing for residential and commercial clients.